This post and its photos may contain affiliate links. As an Amazon associate we earn from qualifying purchases. If you make a purchase through these links, we may collect a share of sales or other compensation!
Fall and winter are here again. Those harsh and dreary seasons where the weather outside is frightful. They present the unique challenge of having proper footwear for maneuvering in all the different weather conditions this time of the year can throw your way—from snow and slush to ice and salt.
But which kind do you get? I'll tell you what. A good pair of clog boots feels so delightful!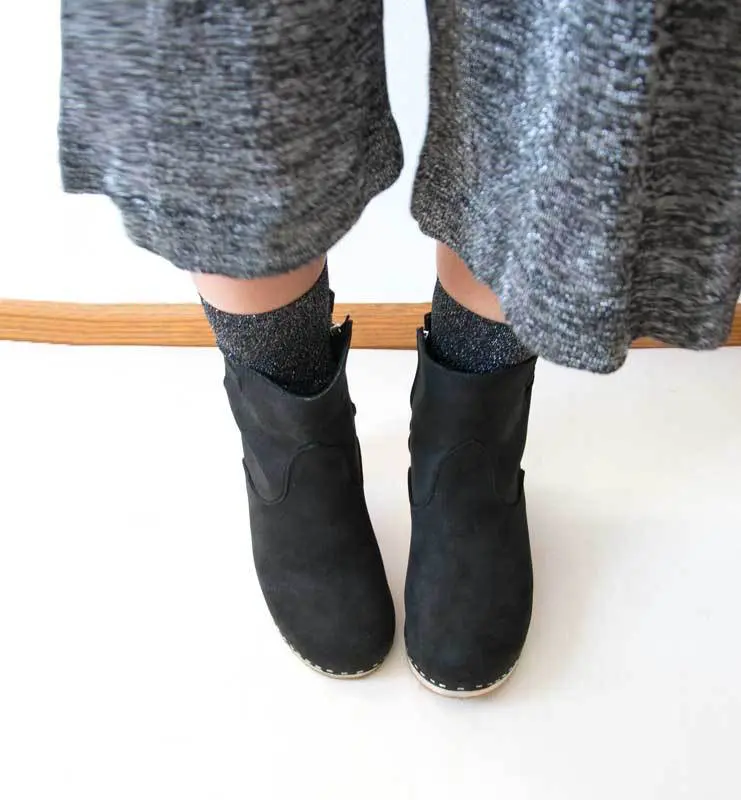 Here are Our Top 5 Clog Boots:
1. Sandgren's Manhattan High Heel Clog Boots
These Sandgren's Manhattan High Heel Clog Boots scream classic, uncomplicated style. They're the perfect clog boots for women through different seasons. The woman who purchases these boots is dedicated to her unique style and is confident.
Manhattan is an attractive, "high heel" clog boot with eye-catching details like a V-cut in its shaft and an adjustable strap with a buckle closure. It's "high heel" because they're not really that high, just higher than their low heel version. The style is fashionable, and features a perfect height and a just bold enough darker wooden heel (perfect for those who are known to scuff their natural-colored clogs).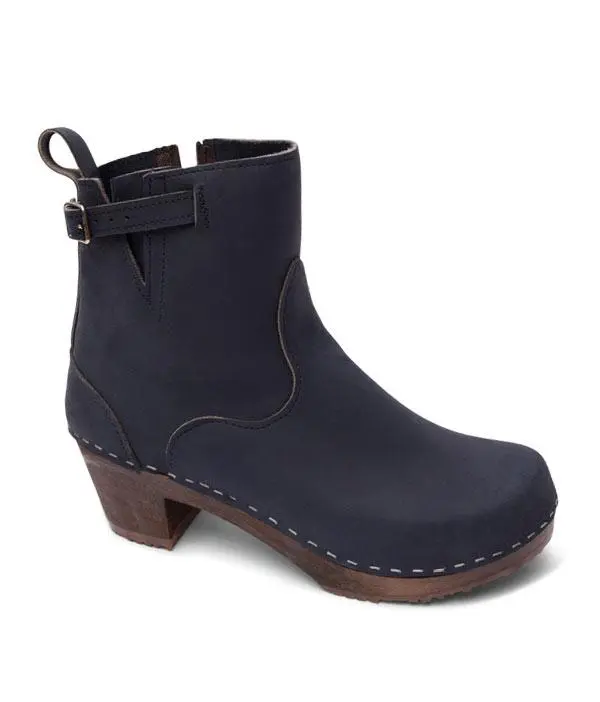 Choose from 5 different color options: Black, Olive, Navy, Fudge, and Dexter Tan. The boots have a comfortably soft, rubber sole and are handcrafted from luxurious Nubuck leather, which is similar to suede with its soft and velvety touch but is known to be more durable. Nubuck leather is oiled during the refining process, which means that you can be caught out in the rain, snow or sleet and never have to back down. Although it can benefit from being cleaned with traditional shoe polish or any common shoe cleaner.
These clog boots are also so comfy right out of the box. They don't require any breaking in! Just pair them with a pair of thick socks. Thick socks are really perfect for keeping feet dry and warm. They're a great winter go-to, empowering your feet to kick up a storm wherever you go.
2. Dansko Shirley Wedge Clog Booties
The stylish Dansko Shirley Wedge Clog Booties are the perfect blend of chic and casual that fit any outfit and style. The wedge heel gives you that extra height when you need it most. Scotchgard-treated leather ensures that whether they're wading through deep snow banks or stepping over ice patches, these clog boots will stick with you through the harshest winter conditions.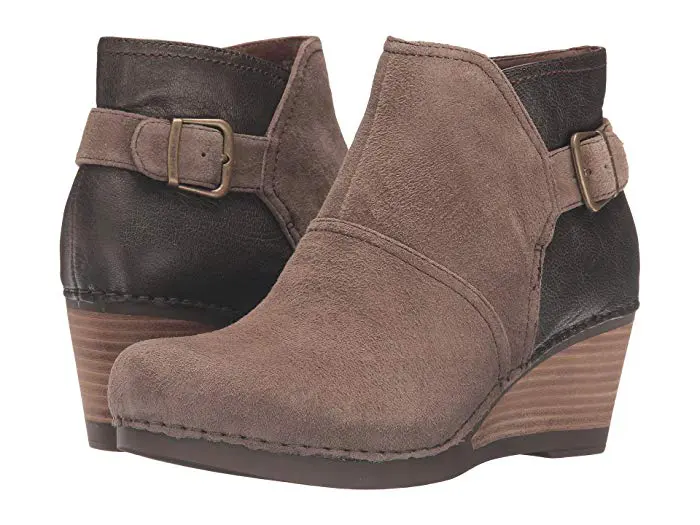 The buckle details at the side and the decorative aged metallic accents give a cool edge to these super comfortable boots. The polyurethane sole and leather-wrapped stacked wedge will prevent water and slush from seeping through on those cold, windy days. Comes in 4 color options: Taupe Suede, Black Nubuck, Wine Nubuck, and Grey Nubuck.
3. Birkenstock Bakki Fur-Lined Clog Boot
Take on winter in the Birkenstock Bakki Fur-Lined Clog Boot! Here, form meets function—fur-lined clogs are stylish and trendy but also effortlessly put a modern and warm spin on this undeniably classic style. The shearling lining inside as well as the fur lining on its foldover cuff ensures that no matter the stress you put your feet through throughout the day, your feet stay warm and cozy.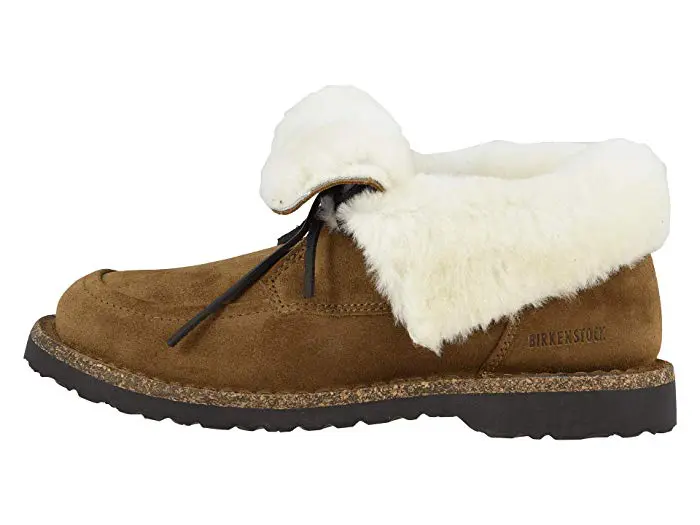 Comes in 9 color options: Graphite, Mocha-Mocha Suede/Shearling, Shearling Graphite Suede, Black Suede/Shearling, Tea Suede/Shearling, Black-Black Suede/Shearling, Shearling Black Suede, Black Suede, and Graphite Suede.
The suede outer layer and the flexible sole with the built-in tread pattern keep your feet dry when on the move and add stability by preventing slips on icy surfaces. It may not be plunge-into-the-slush-puddle waterproof, but it will keep your feet warm and dry outdoors, and toasty but not hot indoors. And it features the Birkenstock logo embossed on the outer side. Pair seamlessly with leggings or skinny jeans while window shopping around town.
4. Dansko Women's Maria Ankle Boot
Dansko is one of the most recognizable brands in the market for clogs. If you asked anyone on the street about Dansko shoes, what do you think they would say? The classic professional clog popular with healthcare professionals, chefs, and anyone who spends long hours on their feet.
For those looking for a fashionable clog boot that goes with any outfit, then the Dansko Women's Maria Ankle Boot is for you. This stylish ankle boot features a 2-inch heel and a generously cushioned leather-wrapped footbed with optimal arch support for all-day comfort. And it is so comfortable—you can wear this clog boot all day and walk miles comfortably. Its minimalist design is the perfect choice for the modern and stylish woman on the go.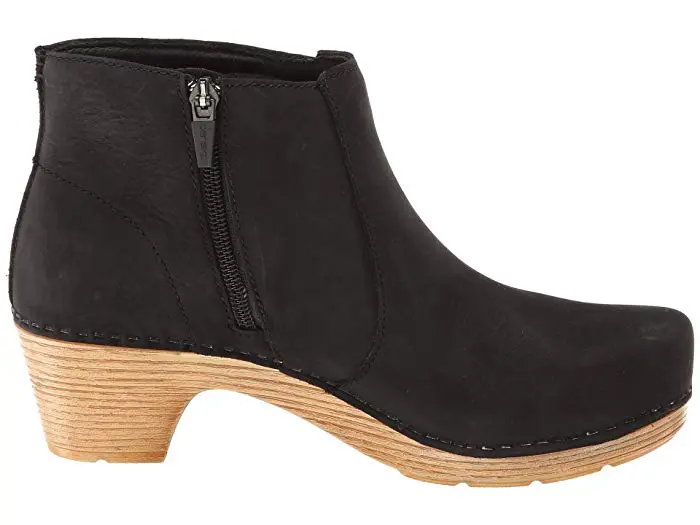 The sole is a long-wearing polyurethane bottom that's flexible, durable, and not to mention oh-so-comfy. The boot may not be waterproof, but the sole and the nice lift it provides keep you out of the worst of it. Plus the soft, milled Nubuck leather really hides scuffs and is water resistant. Again, it's not ideal in a huge snowstorm, but for the day-to-day, slushy, messy wintry weather, it's really stable and more comfy than you can imagine. It's also a great choice for anyone whose feet get too hot in insulated boots and doesn't want to deal with an office shoe and a street shoe. Comes in 4 color options: Black, Olive, Taupe and Grey.
5. Dansko Barbara Low Heel Bootie
If we are talking our top 5 women's clog boots, then we cannot forget the Dansko Women's Barbara Low Heel Bootie! It's made with breathable Nubuck leather that has been treated with 3M Scotchgard to create a boot that's completely stain resistant and durable.
This dependable casual boot not only cushions and supports your feet with a memory foam insole, its lining controls odor, making your feet both comfy and fresh all day long. It's as close to perfect as clog boots can get. It won't hurt your feet or cause blisters, just ridiculously comfortable. Comes in 4 color options: Black, Chocolate, Taupe, and Wine.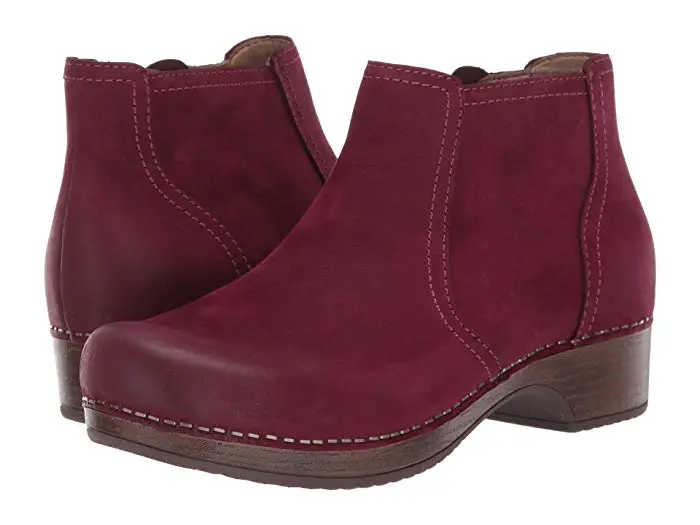 Winter certainly won't hinder your fashion, and the modern style of this chic bootie presents a unique opportunity for you to enjoy lasting comfort in style. Pair it with either leggings or skinny jeans and an oversized chunky sweater.
There you have it!
When shopping for a pair of winter clog boots, it is important to consider its intended use—from strolling through snow-covered city streets and flaunting your fashion sense around town to more active outdoor endeavors. For everyday essentials, there's a clog boot to suit whatever your winter adventure may bring.
Whether you prefer heeled, laced, or ankle clog boots, let us take some of the stress off. Check out our top 5 winter clogs listed above. These boots are the perfect accessory this winter while keeping your feet warm and cozy.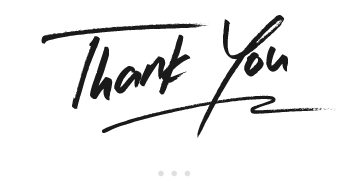 published by 

 Clogs Corner