This post and its photos may contain affiliate links. As an Amazon associate we earn from qualifying purchases. If you make a purchase through these links, we may collect a share of sales or other compensation!
A runner has running shoes, a hiker has hiking boots, a tennis player has tennis sneakers, and a ballerina has ballet slippers. A soccer player has cleats, a swimmer has fins, a tap dancer has tap shoes, a beach-goer has sandals. And a chef has chef clogs — clunky and ugly but oh-so-comfy and incredibly necessary in the restaurant business.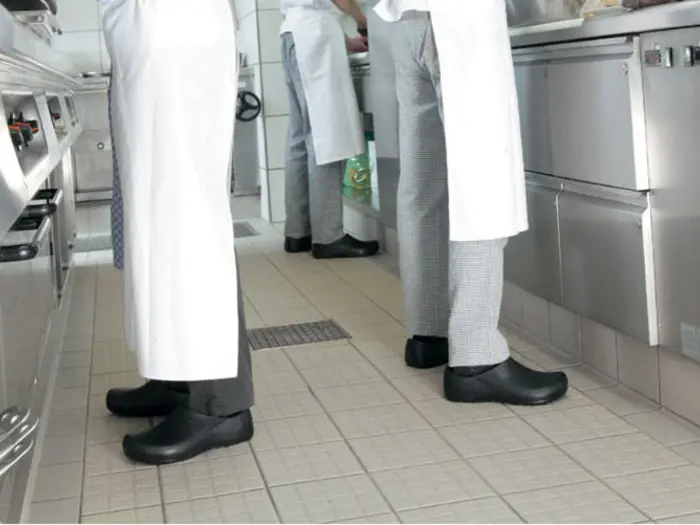 To understand the love/hate relationship between chefs and chef clogs, you need to understand the working conditions and the strict requirements that must be met.
As a chef, you not only work indoors but are exposed to high heat from hot ovens and extreme cold from deep freezers, not to mention sharp knives, slips, cuts, and burns. Your work performance depends upon your ability to move around, be on your feet for long hours, and withstand the pressure and strain of working at close quarters with others.
So, having the right pair of shoes can make or break your day. You need to wear comfortable shoes that correct your posture and help you move around safely.
The shoes need to be non-slip so you're able to navigate the constantly wet and oily floors. They need to be waterproof as spills from oil, grease, water, soap, and food are inevitable — all potential metaphorical banana peels on the floor that can cause slips and falls. The shoes also need to be sturdy enough to protect your toes and feet from sharp knives, heavy pans and hot objects constantly falling or being dropped.
But most importantly, they need to be comfortable. If you're literally going to be on your feet for a long 12-hour shift, your shoes MUST be comfortable. Proper arch supports and padded heels protect your back, legs and joints while breathable uppers keep your feet fresh and help prevent sores or fungal infections. Not nice, but true!
So, Why Do Chefs Love Chef Clogs?
With their wide toe boxes that allow your toes to move comfortably, and anti-fatigue rocker bottoms that provide shock absorption and flexibility while withstanding extremely hot and cold surfaces and protecting your feet, legs and back during a long shift on your feet, chef clogs are all about providing all-day comfort.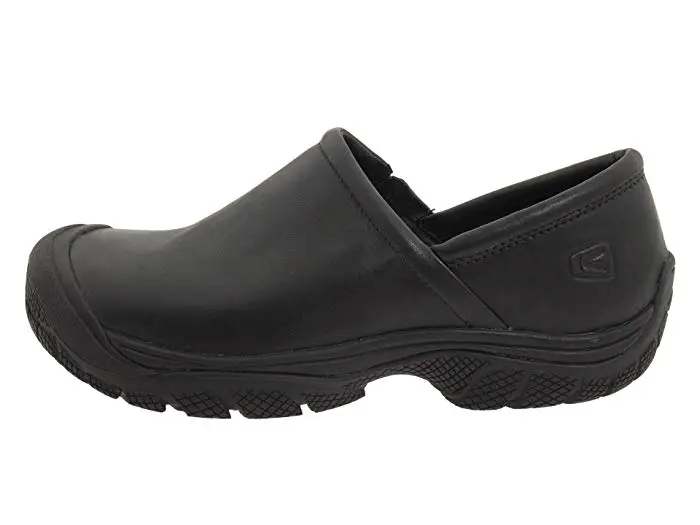 KEEN Utility Men's PTC Slip-On II Work Shoes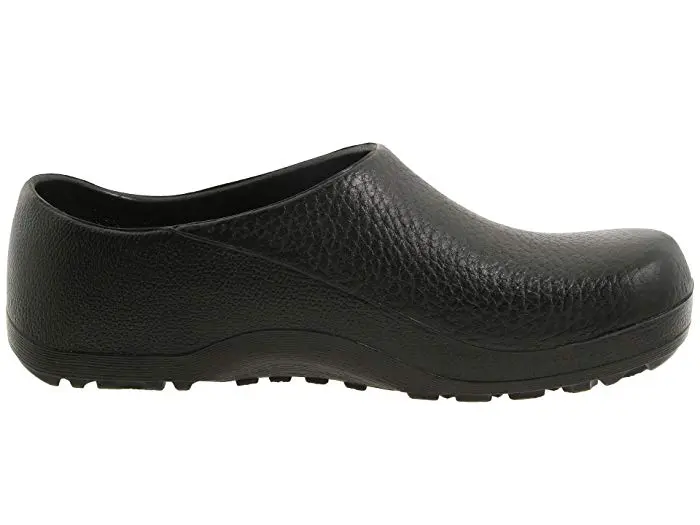 Birkenstock Profi Birki Professional Clogs
(Wide Toe Boxes)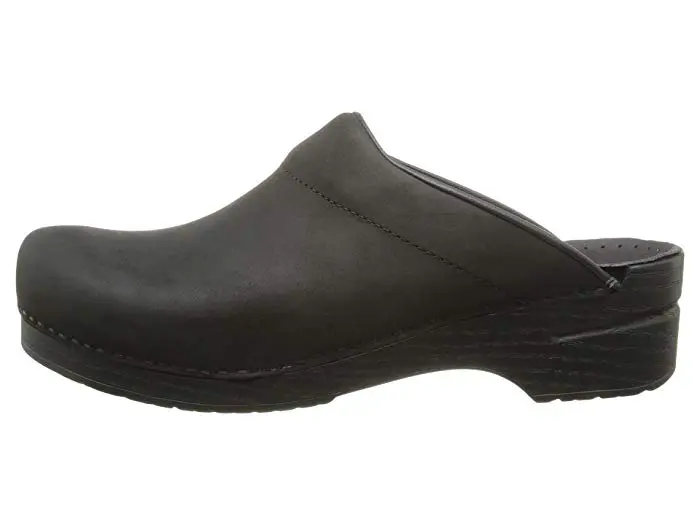 Dansko Men's Karl Open-Back Clog
(Anti-Fatigue Rocker Bottoms)
They're lightweight, durable and high off the ground, with great foot and arch support and moisture-wicking linings. This is really big, especially when you're working in a high-energy, high-pressure environment like a restaurant. 
These moisture-wicking linings are not only comfy, they help wick away moisture to keep your feet dry, and some are even antimicrobial to help control odor.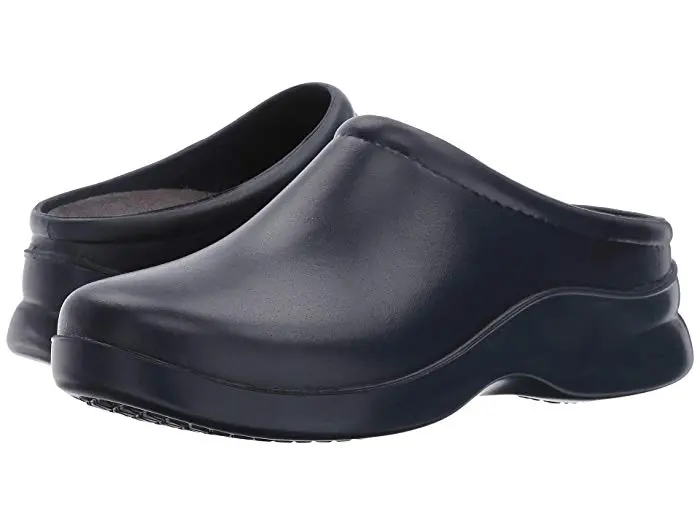 KLOGS Footwear Dusty Chef Clogs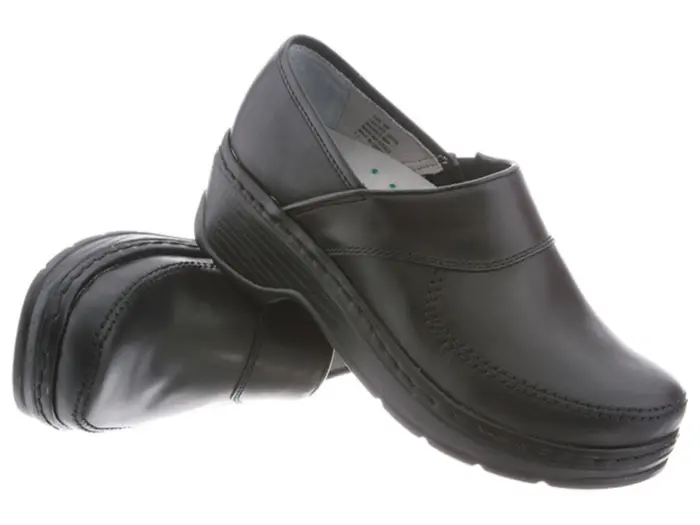 KLOGS Sonora Closed-Back Chef Clog
(Moisture-Wicking & Antimicrobial Insoles)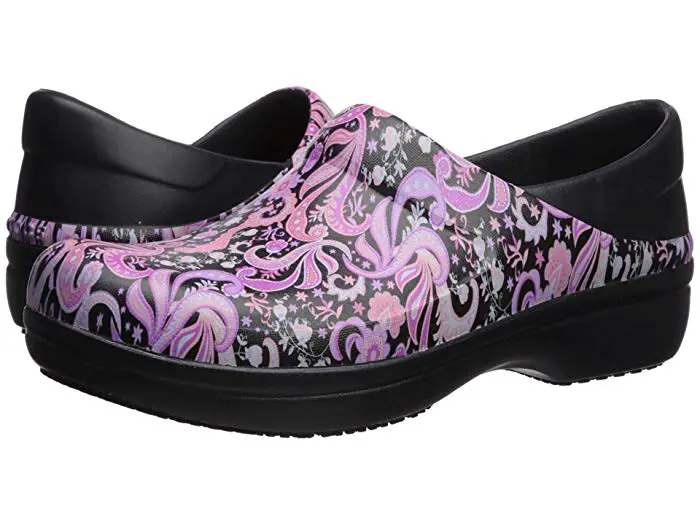 Crocs Neria Pro II Graphic Work Clogs
(Enhanced Foot & Arch Support)
Chef clogs also have soles that are non-marking on wet, dry and oily surfaces. Plus they're slip-resistant to keep you safe while you're working just about anywhere. They're designed to clean up easily after a long shift even if you're working in wet or greasy environments.
And you can easily slip them on when you're heading out the door and then slip them off after a long shift. So, it's not surprising to see so many chefs choosing chef clogs as their go-to work shoes.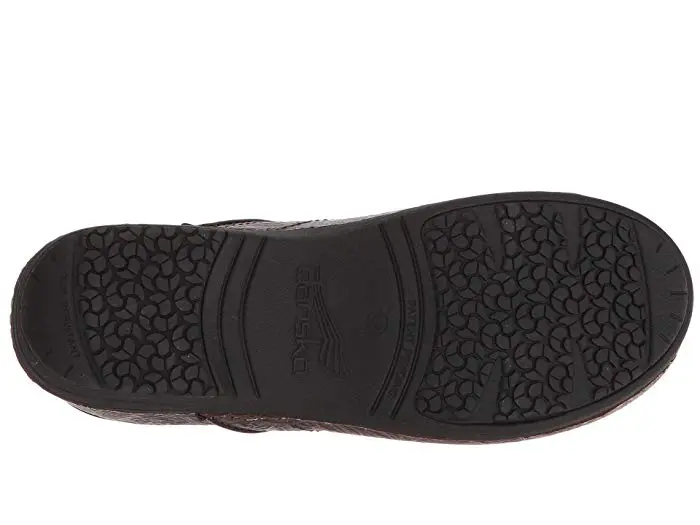 Dansko XP 2.0 Slip Resistant Clogs
(Non-Marking, Slip-Resistant Sole)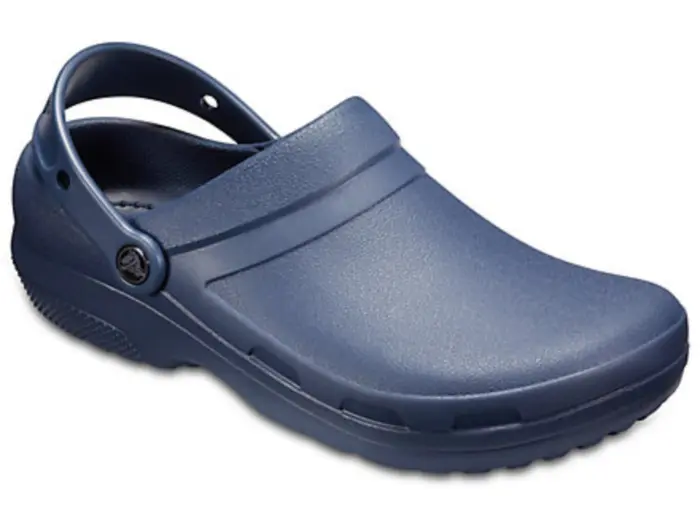 Crocs Unisex Specialist II Rubber Clogs
(Clean Up Easily)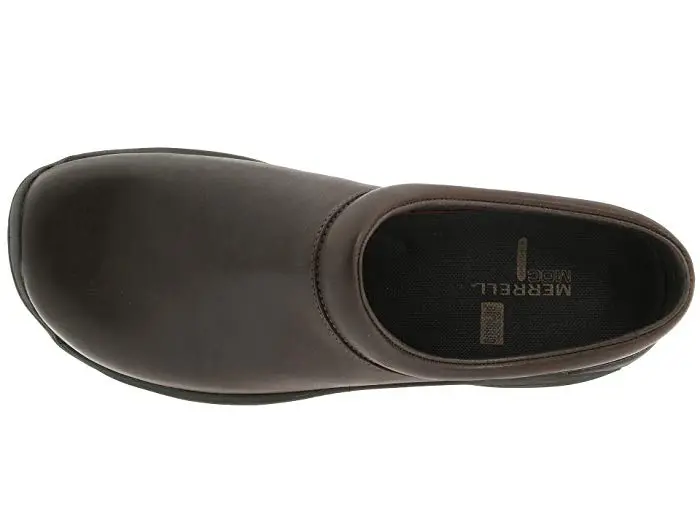 Merrell Men's Encore Gust Slip-On Shoe
(Easy Slip On & Off)
Chef clogs are both comfy and practical for chefs and other professionals who spend a large part of the day on their feet. They're truly versatile and a great example of an article of clothing that projects nearly nothing — not the wearer's class, status or personal taste. Chef clogs are therefore reassuringly neutral.
Yes they may be clunky and ugly, but don't be tempted to buy something else just because it looks good. The comfort, safety and long-term benefits provided by chef clogs are self-evident. And yes the cost of a shoe that provides all these may be a little daunting, but in the long run it's a worthwhile investment.
And since your whole level of service, comfort and enjoyment at work stands on what you wear on your feet, you can't afford to get this wrong.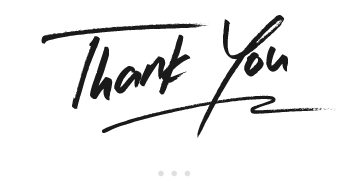 published by 

 Clogs Corner