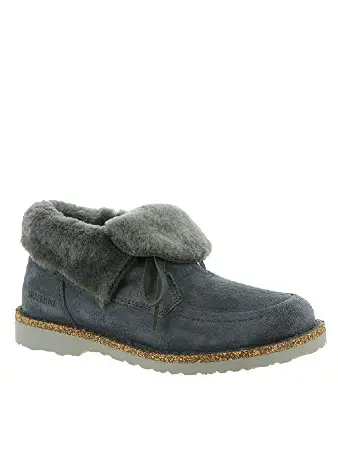 Birkenstock Bakki Fur-Lined Clog Boot
This product and its photos may contain affiliate links. As an Amazon associate we earn from qualifying purchases. If you make a purchase through these links, we may collect a share of sales or other compensation!
Cozy up with the cute shearling-cuffed Birkenstock Bakki Fur-Lined Clog Boot. A soft ankle boot that cuddles your feet thanks to its turnover top with high-quality genuine shearling lining.
It features a round toe with a lace-up closure, a neutral heel profile and deep heel cup to keep the natural padding of your foot where it belongs, premium suede upper, and a flexible EVA outsole that offers lightweight, shock-absorbing support with lasting durability.
Its cork sole instantly gives it away as a true Birkenstock original. It's combined with light, synthetic materials that offer especially good grip. Plus with a dual layer Jute, the top wicks away moisture while the bottom adds strength and makes resoling easy.
The anatomically-shaped cork-latex footbed with suede lining will mold to the shape of your foot, creating a custom footbed that supports and cradles you each-and-every step.
Slip on this perennial classic in the winter to keep your feet warm and cozy!