This post and its photos may contain affiliate links. As an Amazon associate we earn from qualifying purchases. If you make a purchase through these links, we may collect a share of sales or other compensation!
Men's clogs and mules are not a new trend. It's probably not the first time you've come across them and definitely not the last time (if it were up to us)! Although they're practical, comfortable and at the same time effortlessly stylish, they can still be a little confusing for many guys.
And since there's a superfine line between looking cool and looking clueless, many guys choose to stay clear from them. But those who can pull this awesome shoe style off can't get enough of its benefits—from the easy slip-on design that's lace-free to the incredible all-day comfort and style.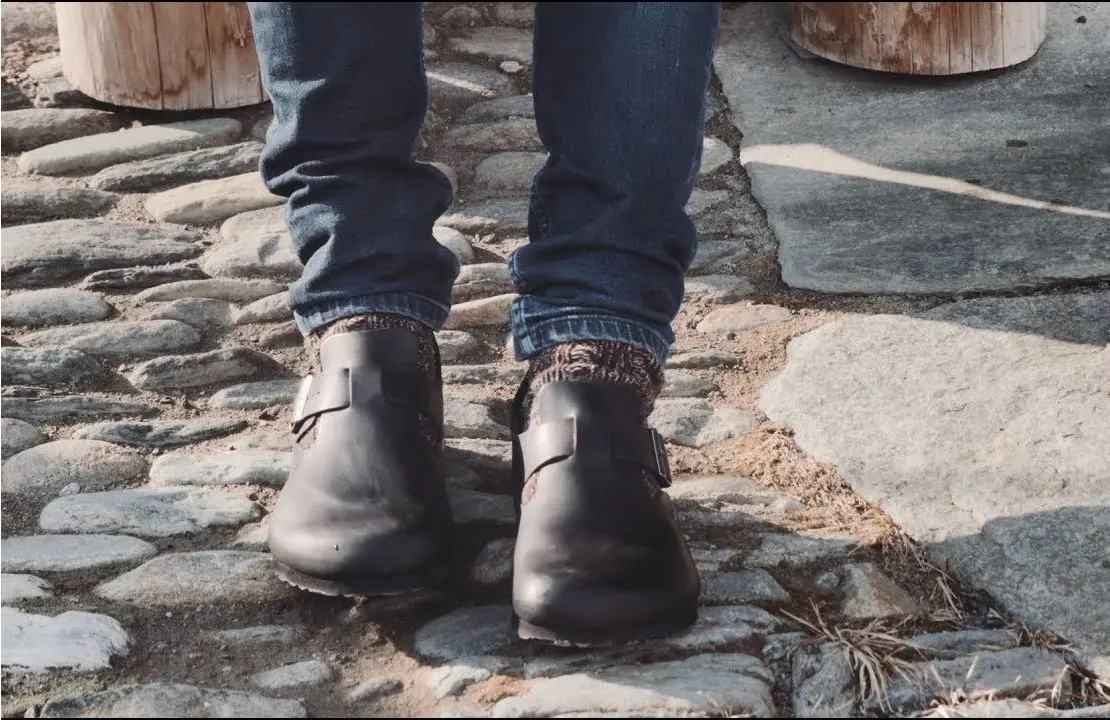 To help you pull the look off, maybe even master it, we have some advice on what men's clogs and mules to buy and what shirts, pants and even socks to wear them with.
So, are you ready for some serious style inspiration?
How to Wear Men's Clogs and Mules
Because men's clogs and mules are inherently casual and comfy, the clothes you decide to wear should be informal and comfortable too. You don't want preppy, you want neat. Just go with your favorite pair of relaxed pants or jeans and add a basic top or sweater to get that relaxed look going.
And for a starter pair of men's clogs, you can't go wrong with something like a Birkenstock. It's not only on-trend, it also has longevity. Avoid too trendy, too fashion styles as these will probably go out of style quicker.
Best Men's Clogs and Mules & How To Wear Them
1. Birkenstock Boston Soft Footbed Clog
The Birkenstock Boston Soft Footbed Clog is, hands down, the best pair of starter clogs (in our opinion). You'll like that this classic clog looks like a normal shoe—but love that it feels like a slipper even more.
With a cork insole that molds to the shape of your foot creating a custom footbed that supports and cradles you each-and-every step, and a flexible outer sole that offers lightweight, shock-absorbing support with lasting durability, this clog will soon become a favorite that can easily be worn all year round.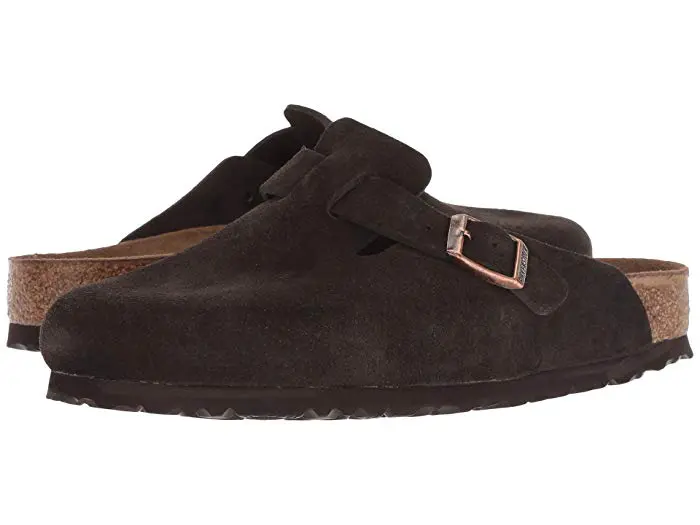 Plus its easy slip-on closed-toe design and easy-to-clean upper will make it your go-to shoe for work or play.
Pair the Boston with tapered jeans, a long-sleeve tee, and a pair of colorful socks for some added personality. Alternatively, you can just skip the socks and slip into them barefoot.
2. Dansko Men's Karl Open-Back Clog
We've written about the Dansko Karl Open-Back Clogs before—they're a favorite of healthcare professionals—and how they're beneficial to your health by distributing your weight evenly, safely and comfortably, which in turn protects your back, legs and joints.
They're comparably priced to the Boston clogs, but with a high-quality leather upper featuring a heavily oiled finish that creates a durable surface which resists moisture.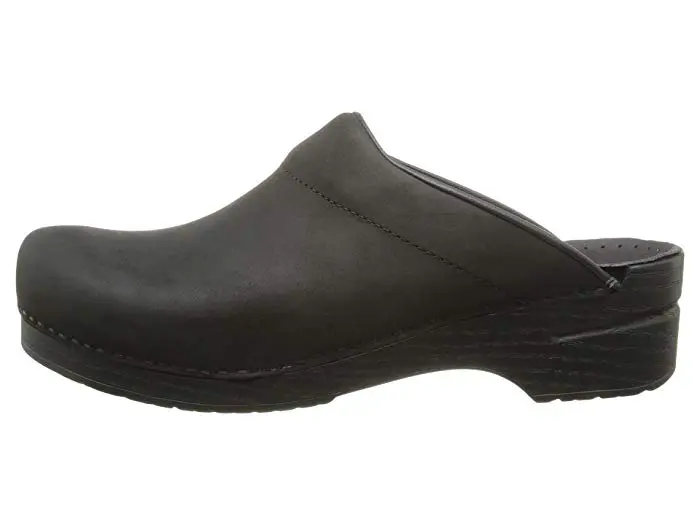 The Karl Open-Back Clogs and the Men's Pro XP Clogs, also from Dansko, are perfect for professionals in the nursing, hospitality, and other occupational fields who spend all day on their feet. And their leather sockliner allows you to wear them barefoot in the summer as it absorbs and evaporates perspiration.
Pair these clogs with a linen shirt and a classic wide or straight fit work pant that's worn to the ankle. If you're in the medical field, you can pair them with scrubs. Wear them with wool socks in the winter and barefoot in the summer.
3. Birkenstock London Soft Footbed Clogs
Other Birkenstock clogs are a great option if you like the brand but want something other than the Boston clogs.
We suggest the Birkenstock London Soft Footbed Clogs and these clogs, also from Birkenstock, as slightly less-casual pairs that are still easy to style because of their classic Euro styles, streamlined silhouettes, and flat soles.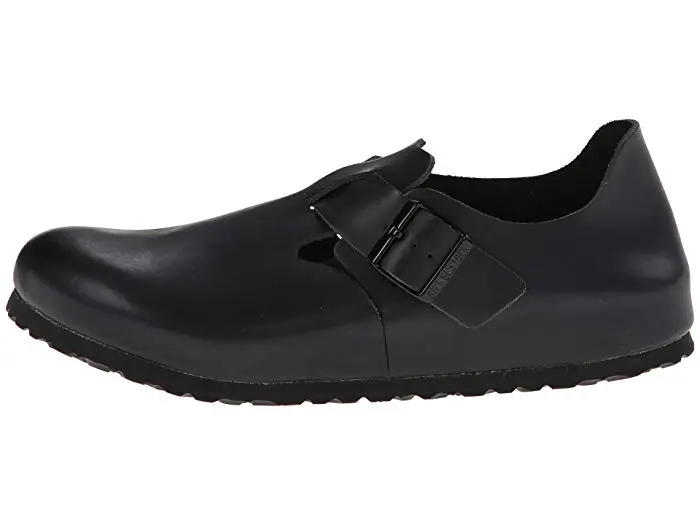 We recommend pairing them with a crisp white short-sleeved or long-sleeved T-shirt (preferably one with minimal graphics) and straight-cut, slimming jeans—but not skinny jeans.
4. Merrell Encore Rexton Slide Leather Clog
The Merrell Encore Rexton Slide Clog is a convenient slip-on that's perfect for your active, on-the-go lifestyle. It's a leather slide clog with the comfort and flexibility of a sneaker. You'll feel like you slipped into heaven.
This pair also shares the Merrell Encore Rexton shape, with the same slip-on casual low-backed comfort clog aesthetic.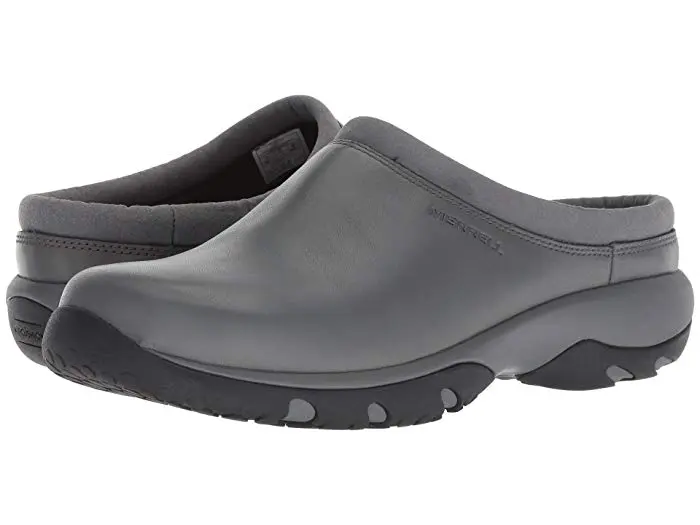 Wear these slide clogs with socks during colder weather, or in warmer weather as an alternative to sandals. That's one benefit of wearing clogs as opposed to sandals—less foot maintenance, especially if you don't like showing your toes.
5. OOFOS OOCloog Sport Recovery Clog
People swear by this sport recovery clog pair (in fact one ICU nurse who works 12-hour shifts did compare wearing the OOCloog to walking on clouds).
It may be unsexy, but you can't deny its legitimate effectiveness in reducing stress on your body and helping you feel better after a workout or during a long day on your feet.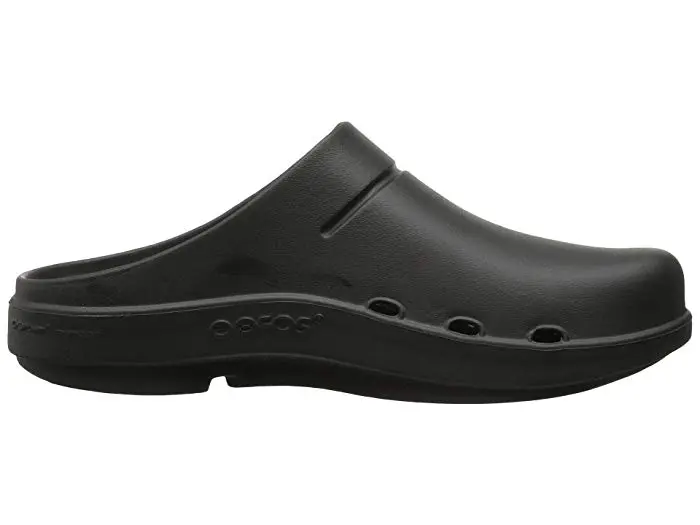 This style soothes and reinvigorates your feet after a tough workout, plus it's ideal for joint alignments and recovery from sports. So try on a pair and feel the OO!
6. Birkenstock Profi Birki Professional Clogs
When you're not wearing your Bostons, put on these Profi Birki clogs from Birkenstock. They're not only waterproof and dirt-resistant, they're ideal for extended wear too!
They're a wardrobe essential if you're a culinary or healthcare professional and great to slip into.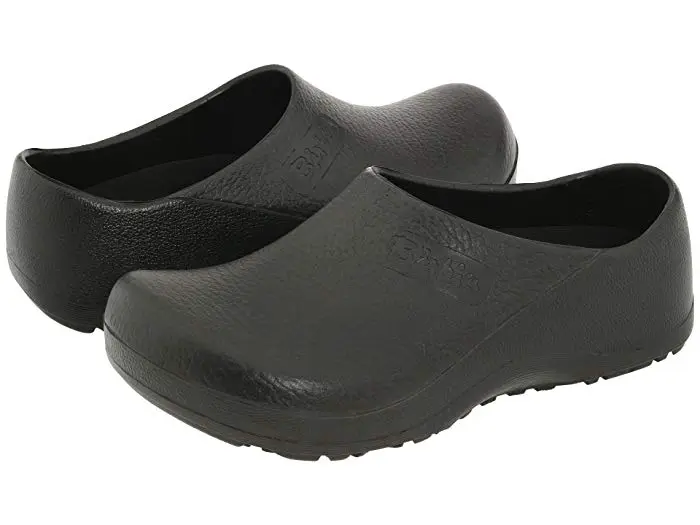 These can also double as house slippers. Basically, if you work from home and don't like wearing your dirty shoes in the house but also feel weird about being barefoot in front of company, just slip into these.
And if you're not into the black, Birkenstock makes them in blue and brown too.
You feel better after reading this post, right? You now must be thinking that you too can pull this awesome shoe style off. So what are you waiting for? Go score your favorite pair of men's clogs and mules.
And keep in mind…this is a casual and comfy shoe style, so the clothes you decide to wear with them should be informal and comfortable too!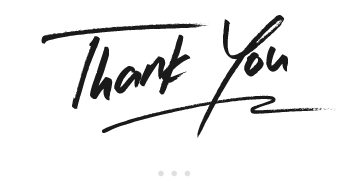 published by 

 Clogs Corner