This post and its photos may contain affiliate links. As an Amazon associate we earn from qualifying purchases. If you make a purchase through these links, we may collect a share of sales or other compensation!
The term "winter clogs" might seem out of place, but this phrase isn't as contradictory as you think. Fleece and fur lined clogs are here, and they're the best cold-weather footwear your shoe wardrobe needs.
Winter boots and clog boots work for a couple of reasons. Not only do they protect your feet as you enjoy your cold weather activities, they're heavy enough to stand their ground when paired with your chunky winter ensemble consisting of thick knits and heavy wools.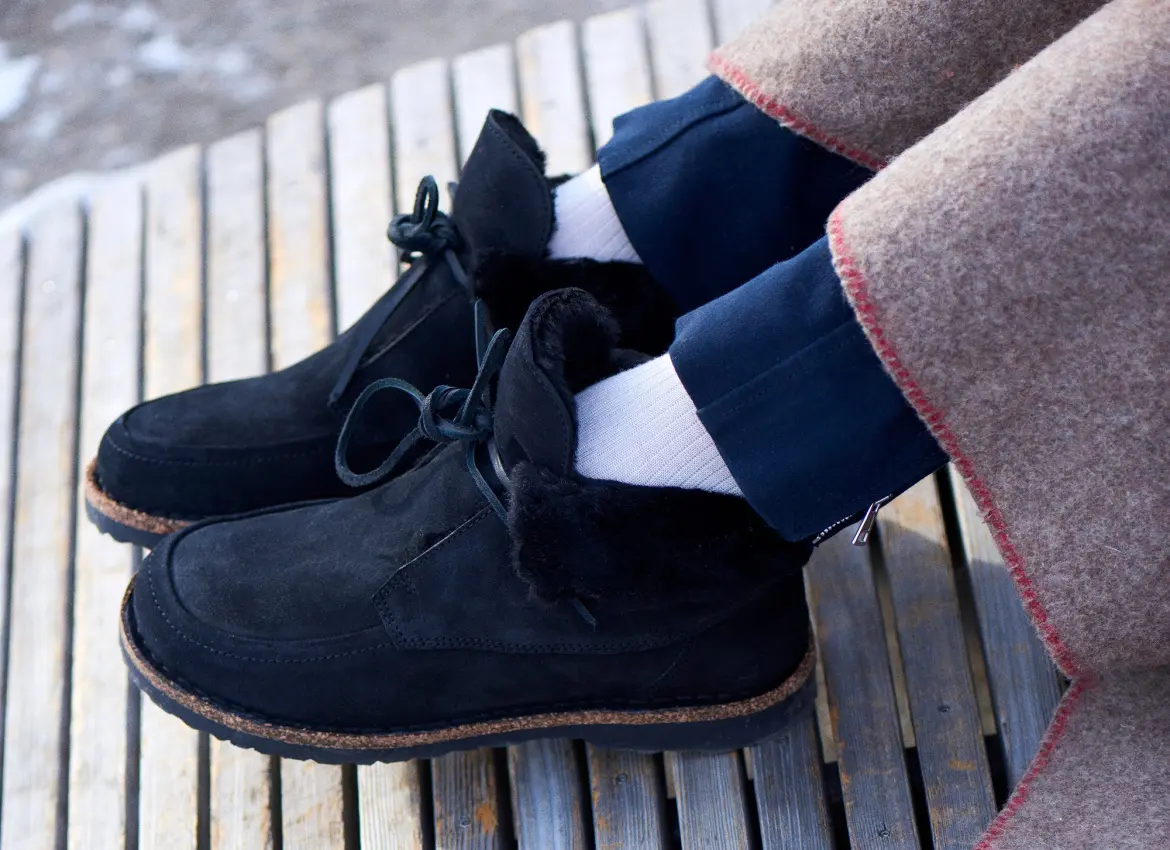 So, as you're constantly trying to fight the weather to stay warm, opting for a pair of clogs with its clunky exterior makes for an excellent barrier against the worst of winter weather—and fur lined clogs will cocoon your feet in plush softness on blustery winter days while adding the much-needed footwear weight any winter ensemble demands. They're the best cold-weather footwear—stylishly ugly-cute and trendy, but also practical and offering unsurpassed warmth and coziness.
And styling fur lined clogs isn't as intimidating as you might think. It's as easy as stocking up on a go-to pair of clogs (or two), and then essentially wearing them with anything—from pairing fur lined booties with skinny jeans to wearing them with some cozy socks and a sweater. What you'll love about these is that you can come up with some really cute fur-lined boot outfits simply by switching up your socks and sweater combo! The options are almost endless, and depending on the weather and the occasion, you can rotate between these three fur lined clog styles throughout the cold months.
Fashionable Fur Lined Clogs to Have in your Closet
First and foremost, your cold-weather wardrobe needs at least one pair of fur-lined clog booties. These wrap your feet and ankles in incomparably cozy fur and/or fleece. And without a doubt, booties are very versatile because they can be paired seamlessly with anything and worn often. Skinny jeans, leggings and tights are a staple in the winter, and clog booties look really cute with either of them. A comfortable pair of flat booties in a neutral color, like the Birkenstock Bakki Fur-Lined Clog Boot, is a great casual outfit or everyday wear option.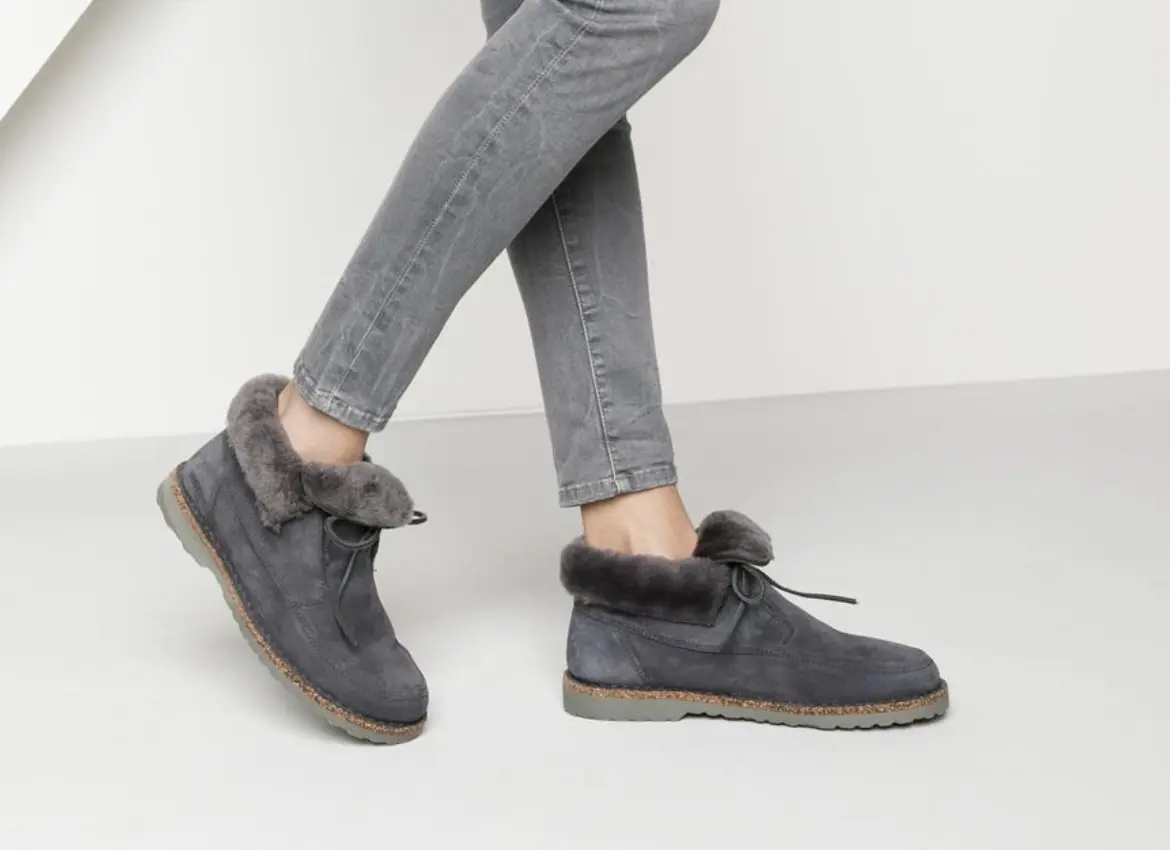 For a dressier look, opt for heeled booties. They not only give you height, they make your legs look longer too! Low-heeled ankle booties like this pair and this pair work just as well with your favorite go-to statement coat and tried-and-true turtleneck jumper as they do with your warm-weather skirt or maxi dress, and they look equally as cute (if weather permits, of course)!
Taller boots, like the Birkenstock Woodbury Fur-Lined Clogs, easily cover your shins and offer more warmth than booties. If you live in a cold climate or if you're visiting a cold and snowy area, you need a pair of these fur lined clogs. Jeans, leggings and pants are easily tucked inside these winter snow boots to keep the cold at bay, especially as you navigate the snowy streets!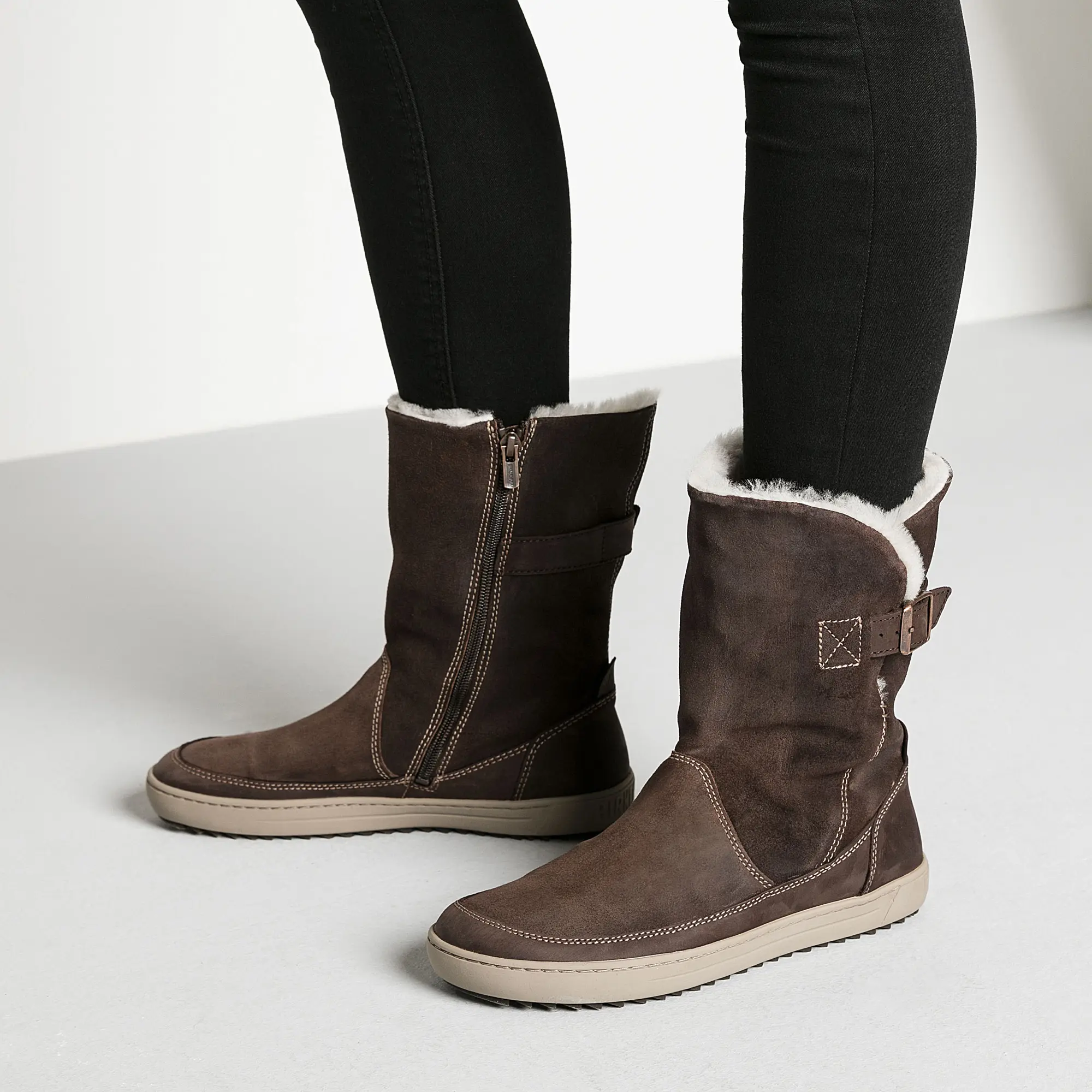 And if snow isn't a problem in your area, these fur lined clogs are ideal for all types of inclement weather—including sleet, freezing rain and chilly wintry mornings! They're water repellent and will keep your feet warm and dry. And if you wear them with a pair of cozy socks, they'll keep your toes extra warm! Another thing I love about these clogs is that they have a built-in tread pattern in their cork soles that prevents slips on icy surfaces! Making them a great alternative to the UGG boot.
Finally, forget about snow, sleet and even freezing rain for a bit and focus on this next option in cold-weather footwear that's totally necessary—winter clog slippers. Like the Birkenstock Boston Shearling Lined Clog! Not only are these luxe winter clog slippers one of the most comfortable cold-weather footwear options around, they're also super cozy thanks to their warm, shearling lining. They're perfect for post-holiday shopping excursions as you warm up beside a log fire.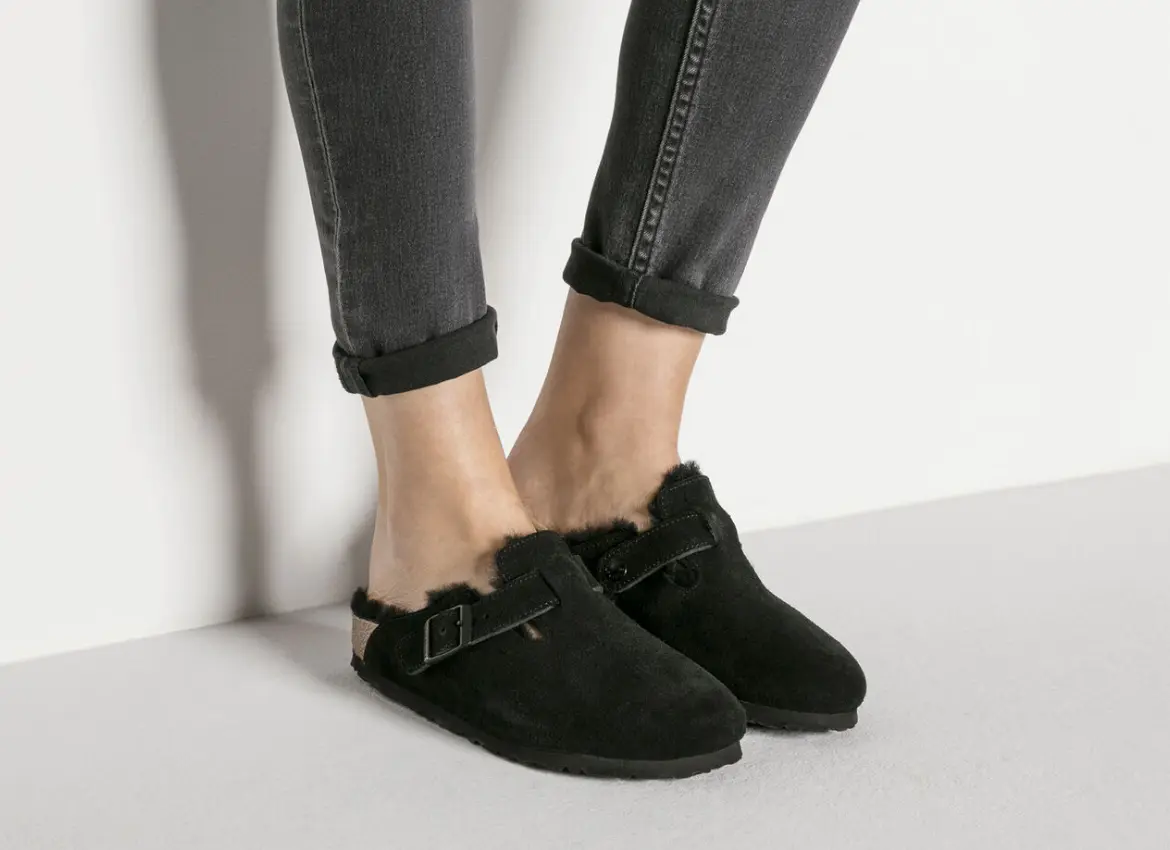 If Birks aren't in your budget, and we totally understand why, this pair and this pair are also super cute and are similar to the Birks Boston slippers! And since they're flat, super convenient and with an indoor-outdoor durable outsole, they'll end up being your go-to shoe for a cozy winter evening by the fire or a quick grocery store run as well as holiday shopping or even a casual date night.
You'll also love this cozy warm pair of wool clog slippers. It's a two-toned natural boiled wool felt pair that's just as warm as the Birks but gives the classic slipper design a fresh makeover while adding a bit of whimsy to your ensemble. And just like the Birks, this wool clog slipper looks really cute with leggings, jeans and even dresses and skirts, and with that same cozy, snuggly winter-flip-flop vibe that you'll love! This deep rich navy-denim color is a fan favorite!
What's your cold-weather footwear of choice? Do you have a specific type of fleece and fur lined clogs that you like best?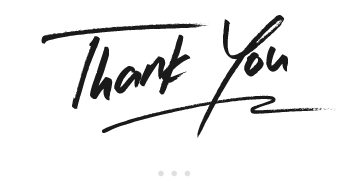 published by 

 Clogs Corner