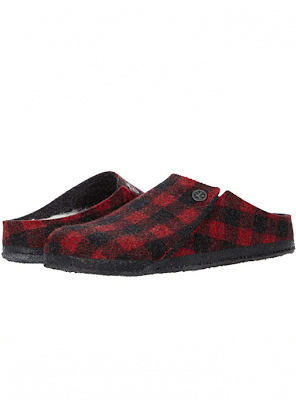 Birkenstock Zermatt Genuine Shearling Lined Slipper Clogs
This product and its photos may contain affiliate links. As an Amazon associate we earn from qualifying purchases. If you make a purchase through these links, we may collect a share of sales or other compensation!
Birkenstock crafts its first-ever slipper clogs with the Zermatt Genuine Shearling Lined Slipper Clogs. These time-honored comfort clogs are lined with genuine shearling for cushioning that naturally wicks away moisture.
They feature the iconic cork latex footbed, and to keep you extra cozy, they're fully lined in genuine shearling that will keep your feet warm all winter long. The upper consists of soft genuine wool.
The removable anatomically-contoured cork soles not only support the arches of the foot for added comfort, they're combined with light, synthetic materials that offer especially good grip. They will mold to the shape of your foot, creating a custom footbed that supports and cradles you each-and-every step.
Slip on this perennial classic in the winter to keep your feet warm and cozy!