Women's Leather Clogs: 5 Features That Make Them Winter Perfect
This post and its photos may contain affiliate links. As an Amazon associate we earn from qualifying purchases. If you make a purchase through these links, we may collect a share of sales or other compensation!
What makes women's leather clogs perfect for winter? They're comfortable, durable, and stylish. It's not always easy to find all three features in the same pair of shoes. And unfortunately, practical winter weather wear often means sacrificing fashion.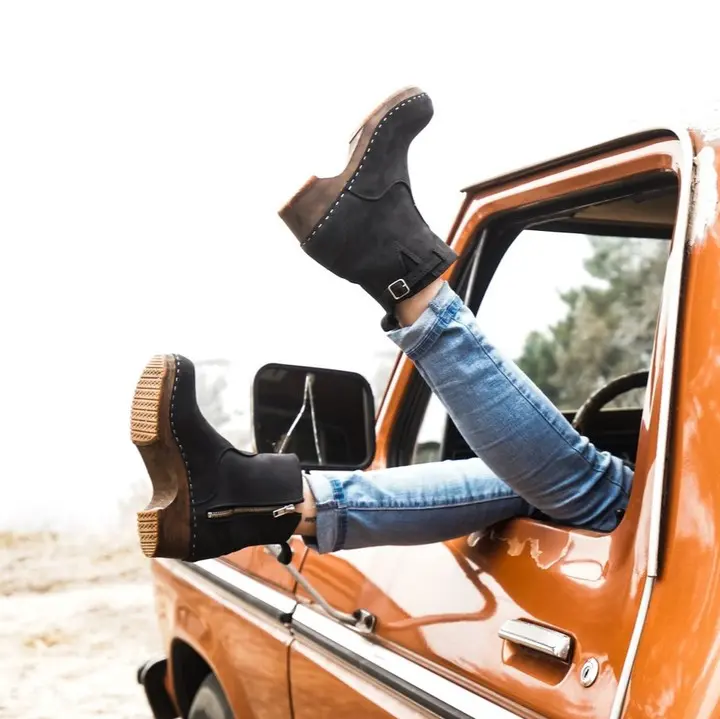 Navigating slushy city sidewalks can be tricky. But women's leather clogs not only serve their purpose by keeping your feet dry whether it's rainy, snowy, or sleeting, they're also stylish and above all, totally comfortable.
Women's leather clogs are versatile and feature no-nonsense durability that's perfect for winter. And there are several options to choose from—from fur-lined boots and clog booties to clog mules and soft clogs. Below, discover 5 features that make women's leather clogs perfect for winter.
1. Keep Your Feet Dry in Sandgren's Manhattan Leather Boots
If you're looking for a durable pair of clog boots that's comfortable and stylish, the Manhattan is your go-to. These women's leather clogs feature Nubuck leather which can take a lot of wear and tear. And they keep your feet comfy and dry. If you want to make them even more water-resistant, you can always spray them with a waterproof spray for shoes.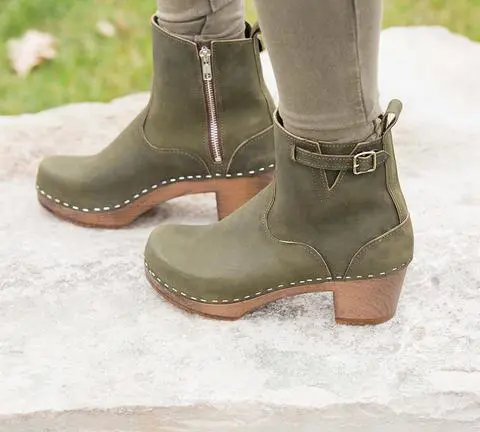 The Manhattan comes in four color options—black, fudge, navy, and olive. And regardless of which color you opt for, all colors feature a dark brown, lacquered, wooden clog base on a soft, rubber sole that not only provides traction on slippery city streets and sidewalks, it keeps your feet elevated from the wintry mess.
And since these women's leather clogs feel like flats even with the low heel, they're well-suited for both everyday staples and fashion-forward looks.
2. Keep Feet Snugly and Warm with Cozy Birkenstock Woodbury Fur-Lined Boots 
In addition to keeping your feet dry, you need women's leather clogs that will keep your feet snugly and warm. Birkenstock Woodbury Clogs come with a warm and cozy shearling lining that has not been artificially dyed or treated. They'll insulate your feet and legs, from your calves to your toes.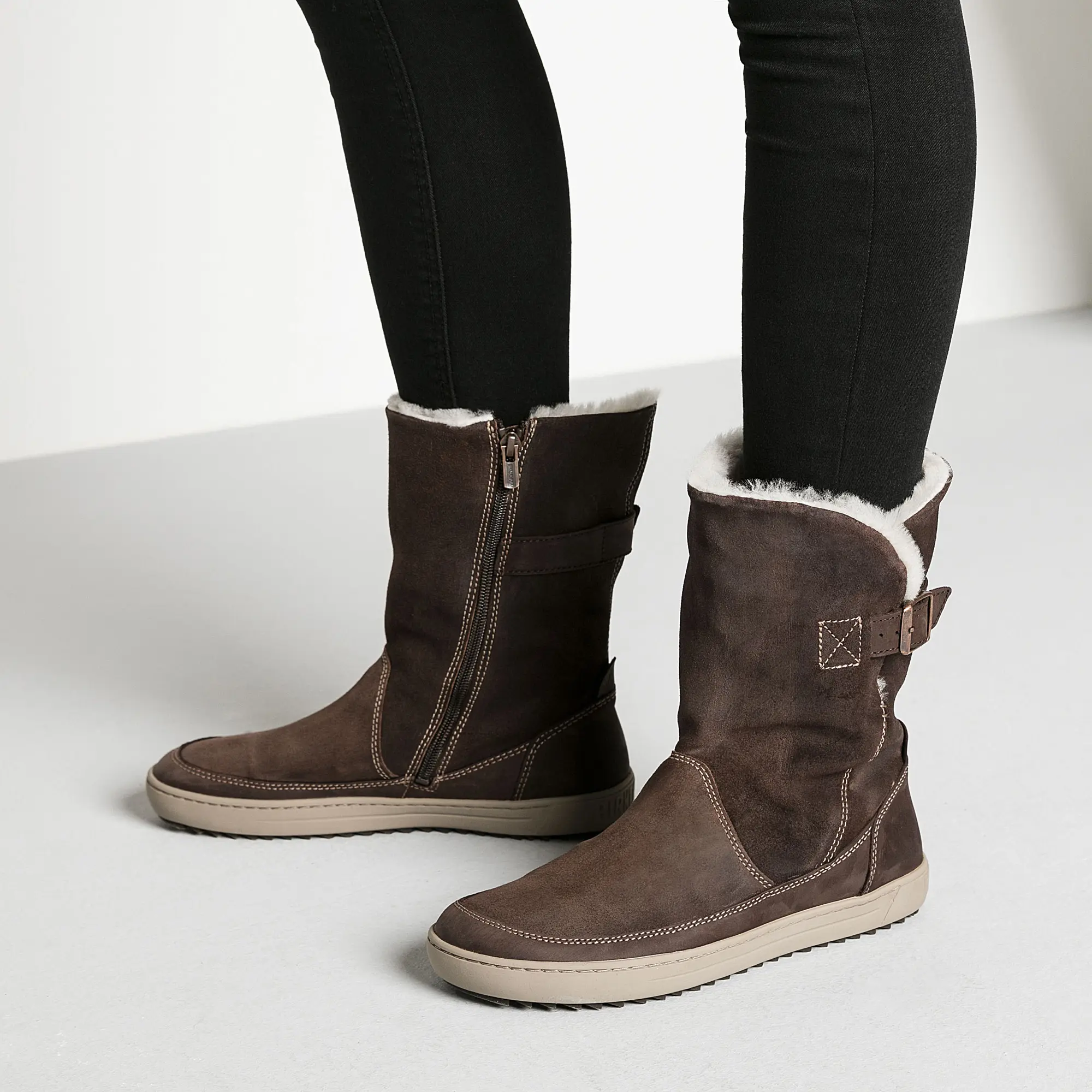 You don't need to wear thick socks with these Woodbury clogs. And just like all Birkenstocks, these boots feature a round toe for more wiggle room and comfort.
This gives you the option to choose what socks to wear as you head out to face the elements. Plus a durable, rubber outsole with deep treads means no more slipping and sliding through the city streets.
3. Birkenstock Boston Women's Leather Clogs are Made for Walking
There's nothing worse than a pair of shoes that don't last one season or shoes that are so uncomfortable they may as well be 6-inch heels. But just because it's winter doesn't mean all the weather is bad.
Having a staple pair of comfortable women's leather clogs in your closet that takes the classic clog to the next comfort level is a great idea. We're talking about the Birkenstock Boston clogs.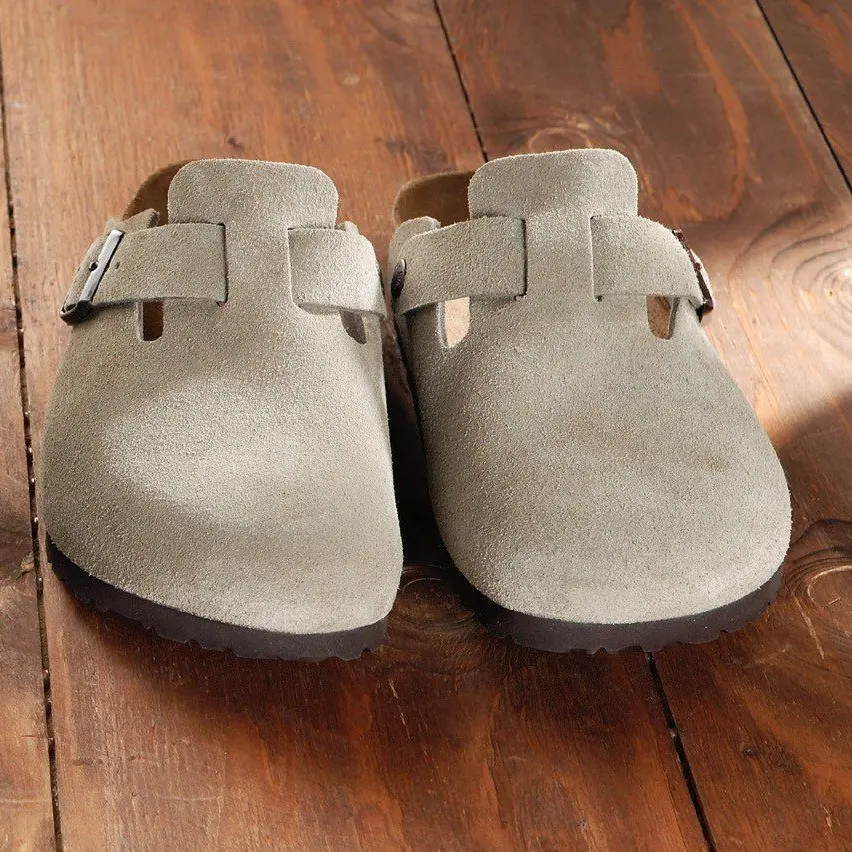 This nature-inspired design not only hugs your feet like second skin, it provides lasting durability that will allow you to easily wear these clogs all year round without destroying them.
And the anatomically-correct cork sole cradles your feet with each-and-every step and supports their natural shape, structure and health. This in turn offers extra comfort while pampering your feet—all day long. Whether you opt for the soft footbed clogs or the shearling-lined clogs, you can't go wrong with the Boston clogs.
4. Enjoy All-Day Comfort in Dansko XP 2.0 Clogs with Anti-Fatigue Rocker Bottom
Dansko XP 2.0 Slip Resistant Clogs deliver the ultimate all-day comfort and style. Unlike traditional women's leather shoes which can be heavy and uncomfortable, XP 2.0 clogs are ultra-lightweight, exceptionally supportive, and slip resistant.
They're ergonomically designed with a padded instep collar for extra comfort when walking and a removable footbed which provides orthotic arch support and relieves the pressure from plantar fasciitis and other foot ailments. The footbed is made of leather-covered molded polyurethane for additional memory foam cushioning and exceptional support.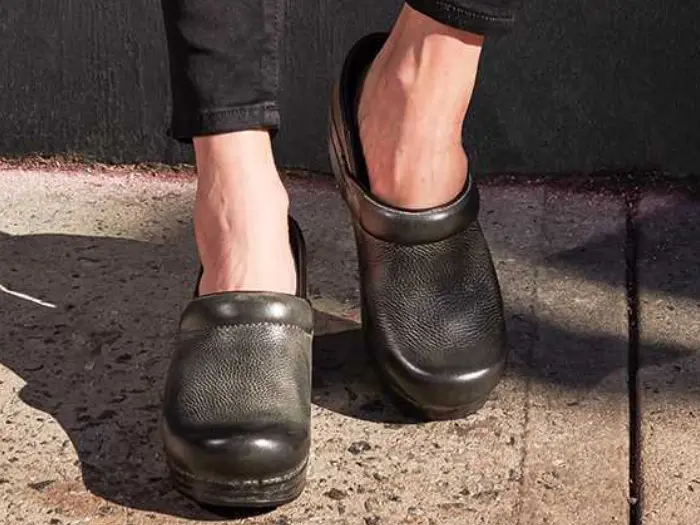 A slip-resistant, rubber outsole suitable for dry, wet and oily surfaces plus an anti-fatigue rocker bottom ensure support, shock absorption and energy return with every step, adding hours of comfy support throughout your day.
The fact that these women's leather clogs are lightweight and not bulky means they don't strain your feet as you walk. Plus, their unmistakable style befits even the most fashion-conscious wearers, making them ideal from the work week to the weekend. And these clogs don't need to be broken in. Dansko XP 2.0 clogs are designed for ultimate comfort right out of the box and to keep you moving all day long!
5. Craving Style? You'll Love These Fashion-Forward Sandgren's Brett Women's Leather Clogs
One of the things you'll love about wearing Sandgren's Brett leather clogs is you can style them with different outfit looks because their modern aesthetic goes with practically everything! That, and the fact that you can get them in a variety of colors that perfectly suit your look.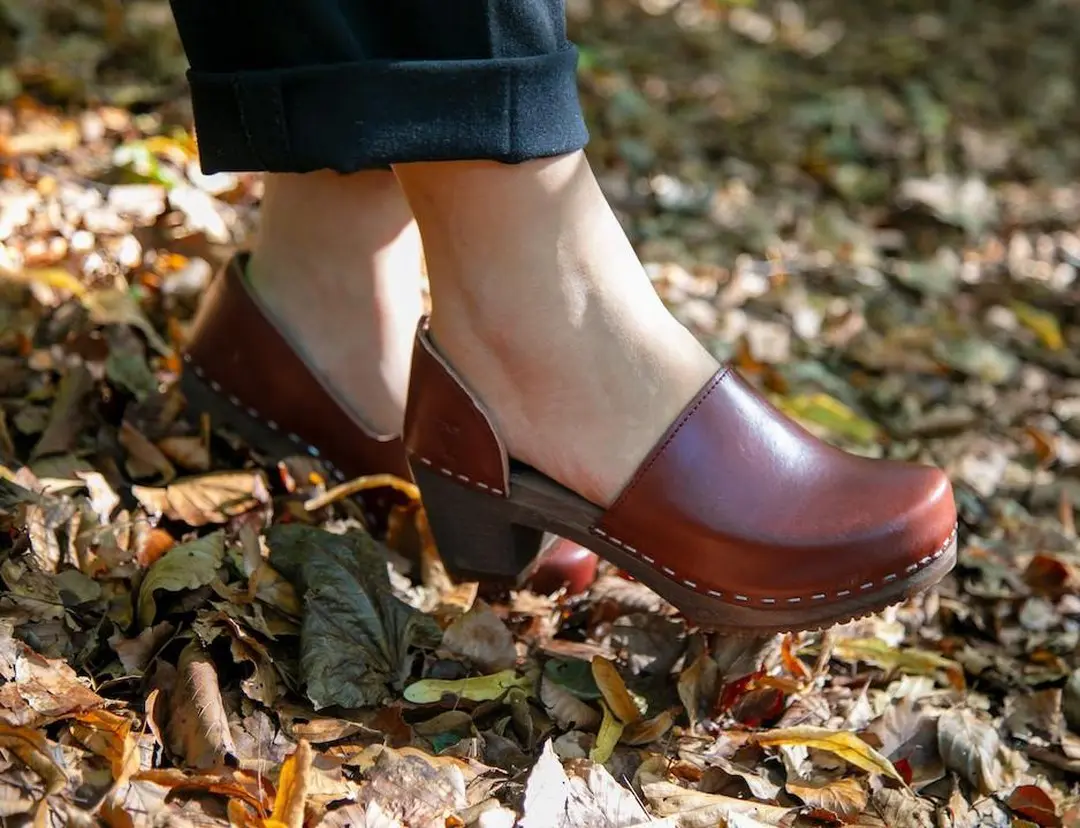 Wearing a pair of these women's leather clogs with jeans and an oversized sweater in the winter is easy styling. Or, you can pair them with a sweater and A-line skirt for a more fashion-forward aesthetic.
The steady high heel and unique cut-out leather detail not only make a statement but also make them easy to take on and off. Plus they come in a variety of colors that can give any outfit the extra pop that you require.
Women's leather clogs are a great all-around choice of footwear for winter, which is why so many choose them! Whether you're looking for boots, slip-ons or the classic clog, there are numerous options that will update your fall and winter outfits with comfort and style.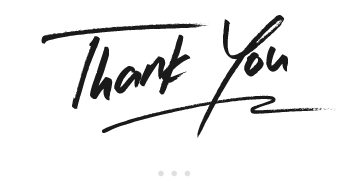 published by 

 Clogs Corner