From Low Heel Clog Boots to High Heel Clogs
This post and its photos may contain affiliate links. As an Amazon associate we earn from qualifying purchases. If you make a purchase through these links, we may collect a share of sales or other compensation!
No one wants to get through their commute just to spend their entire working day in uncomfortable work shoes. And chances are you're spending some of your time on your feet.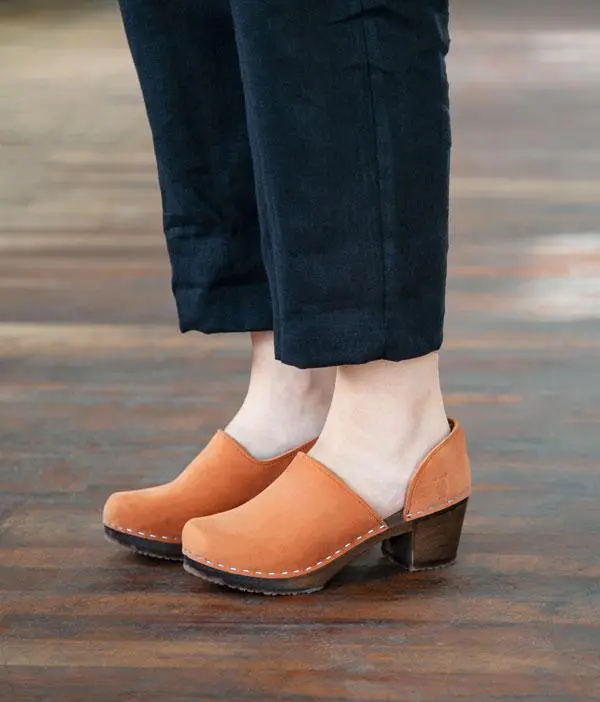 Whether you work indoors or out, in a creative field or in a corporate setting, comfort comes first; especially when there are meetings to attend or patients to take care of or photo shoots to run to.
From low heel clog boots to high heel clogs, these are the most comfortable women's work clogs to wear whether you're a creative, in corporate, or you do shift work.
Most Comfortable Women's Work Clogs for the Corporate Setting
Need women's work clogs for the corporate setting that look professional and feel comfortable? We hear you. But there are practicalities to consider when it comes to the "business" dress code.
After commuting, running from meeting to meeting, and even having to go straight from the office to dinner with a client, make life a bit easier with women's work clogs that fit your 9-to-5 (and beyond) worklife.
Sandgren's Brett High-Heel Wooden Clog
You can't go wrong with the Brett High-Heel Wooden Clog. This must-have women's work clog from Sandgren's features a sleek and modern design, with an open-side cut, closed-toe and closed-back aesthetic. It's transitional, and comfortable enough to take your work wardrobe from summer to fall.  All while making a style statement!
Dansko Women's Malin Slingback Clogs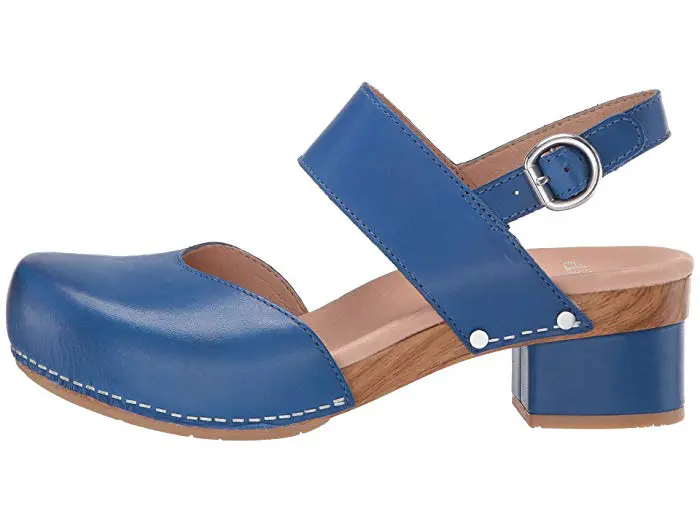 These comfortable slingback clogs from Dansko come in premium full-grain leather and feature a walkable leather-wrapped block heel. Pair them with anything from leather pencil skirts to A-line dresses.
Sandgren's Manhattan High Heel Clog Boots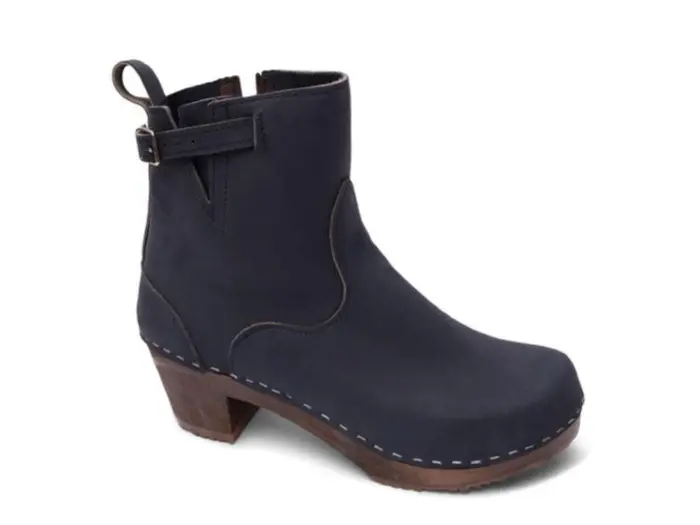 For a Swedish clog boot style done in luxurious Nubuck leather, these skillfully-crafted high-heel clog boots with eye-catching details like a V-cut in the shaft will lead you out of the office and to a late dinner.
With the just bold enough dark brown, lacquered, wooden clog base, they're the perfect option for spicing up a power suit.
Most Comfortable & Stylish Clogs for Creatives
In creative fields, the vibe has shifted from a less strict dress code to a more sporty and dressed down. And because you're not desk bound, you put in some serious legwork — from traveling for inspiration to running events and working on photo shoots.
So comfortable women's work clogs such as work sneakers and low-heel booties are non-negotiable. And when paired with high-waisted jeans, midi skirts, or even suiting separates and tailored pants, these beyond-comfortable work clogs gain style points and become desk appropriate.
Dansko Paisley Sneaker Clogs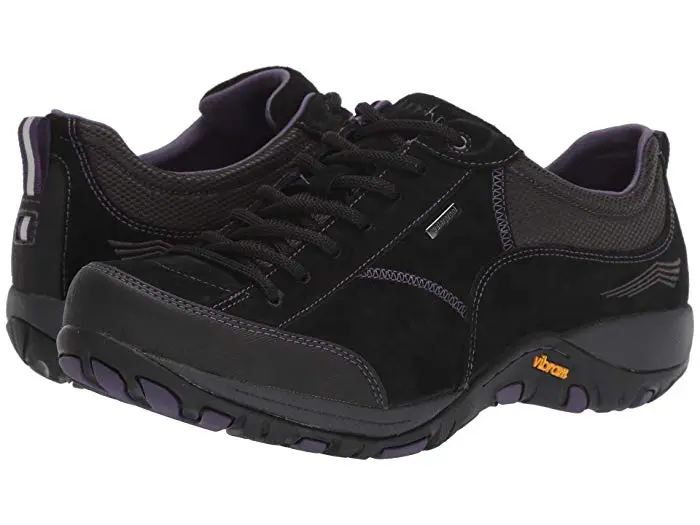 Dansko clogs are the classic, comfortable women's work clogs but the Paisley sneaker clogs add another level of comfort to every office-ready ensemble. You'll have the confidence that even though it's rainy and cold outside, these women's work clogs have got you covered!
SKECHERS Work Sure Track-Trickel Sneakers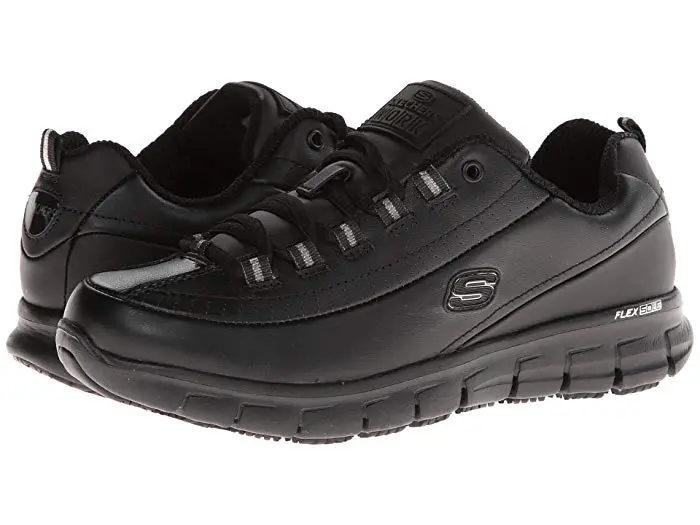 Wearing these comfy sneaker clogs on an early morning commute ensures your commute will be infinitely better. You'll feel that you're in control of your day and ready to conquer any task that comes your way.
Dansko Barbara Low Heel Bootie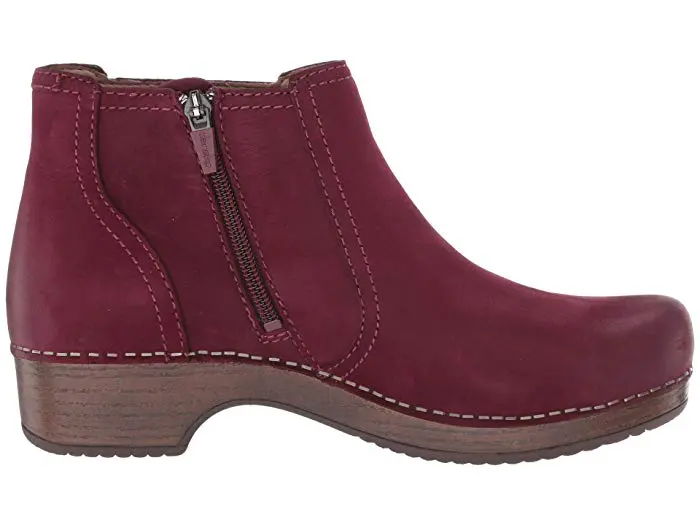 This casual low heel bootie has a convenient inside zipper for easy on-and-off, and a chic round toe, making it the perfect option for enjoying lasting comfort in modern style. It will lead you out of the office and to a photo shoot or even to a late dinner.
Most Comfortable Professional Clogs for Shift Work
Doctors, nurses, pharmacists, chefs, restaurant and hotel workers, and those of you who put in long, long hours on your feet. You know that comfort IS critical. And that blisters, sore feet, back pain, aching knees, and joint pain are all unwelcome side effects that come along with the job.
To prevent injuries and to protect your back, legs and joints from long hours on your feet, you need comfortable work clogs along with support. Plus these jobs generally call for closed-toe shoes for protection for your toes and feet.
Dansko XP 2.0 Slip Resistant Clogs
Dansko professional clogs—whether minimal or intricately detailed—feature an easy slip-on, slip-resistant design that's virtually painless. And with all the different iterations currently on-trend, the options are endless now.
Wear them with a cushy pair of socks for ultimate comfort during your long shift and to keep you moving all day long.
Birkenstock Profi Birki Professional Clogs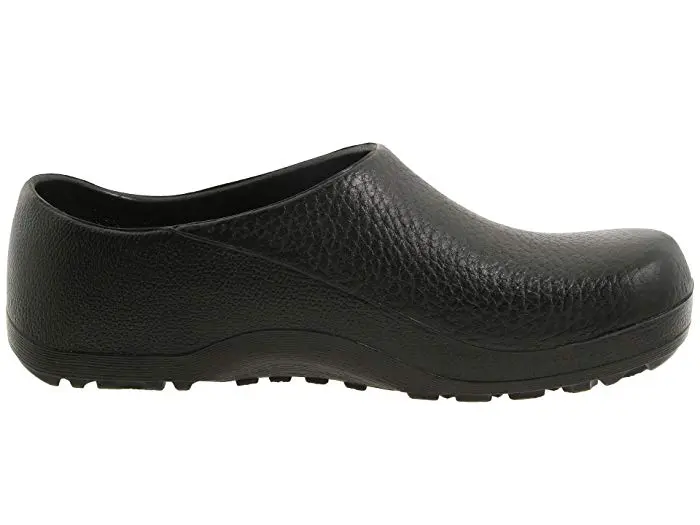 Birkenstock's cult-favorite Profi Birki clogs are not only oil-resistant and grease-resistant, they're waterproof and dirt-resistant, too. And they feature a slip-resistant outsole that provides increased traction and stability on wet, dry and oily surfaces.
These popular professional clogs are therefore, a wardrobe essential for culinary and healthcare professionals.
Crocs Neria Pro II Graphic Work Clogs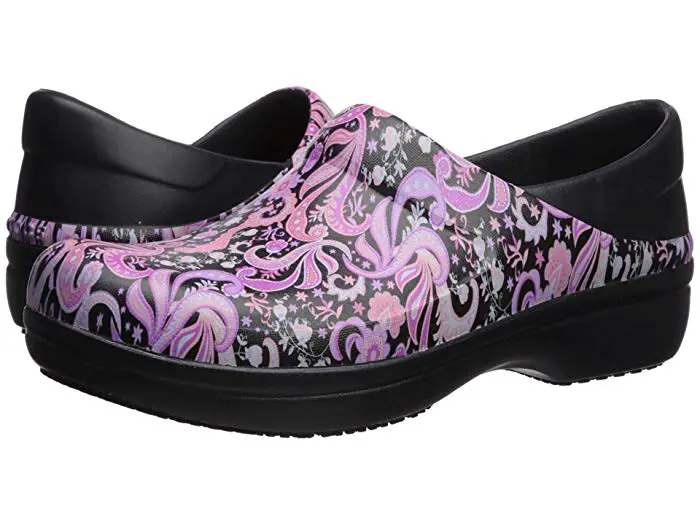 These Crocs Neria graphic work clogs will easily become your go-to. With enclosed heels and toes to meet workplace standards, tasteful graphics to show off a bit of your personality, and an easy on-and-off design, your foot will glide in and stay there.
They're perfect for the worker in the healthcare, restaurant or retail industry who works all day long on her feet.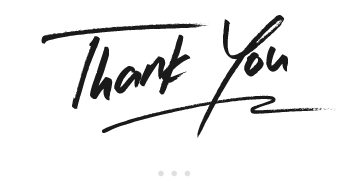 published by 

 Clogs Corner